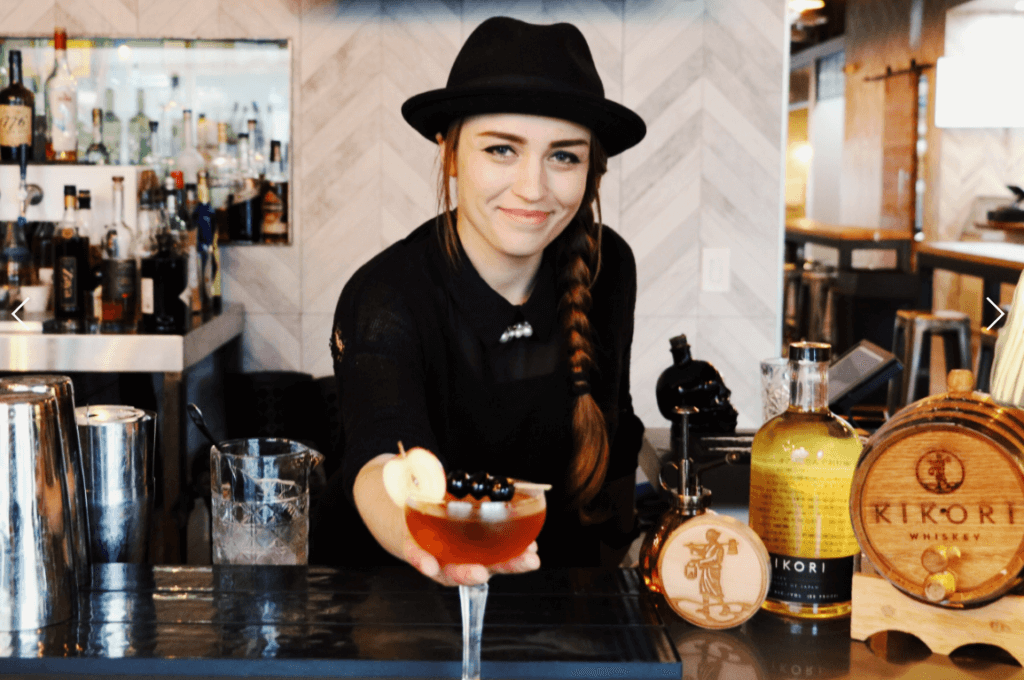 February 2018
What was the inspiration behind the 3 Kikori cocktails at McFadden's?
The inspiration behind The Bad Apple is due to all those amazing savory, non-artificial fall flavors. Mixed with cognac, Bianco vermouth, apple & saffron bitters, brown sugar, and the Kikori adds a delicate floral crispness to this drink; creating a light yet flavorful autumn drink.  
My thought process behind the Remember the Woodsmen Mule is, 'this everything I want in a summer drink. This Kikori cocktail is served in a copper mug with crushed ice, freshly squeezed lime juice, house ginger syrup, locally grown strawberries, mint, and topped with organic ginger beer. In my opinion, the definition of refreshing and well balanced hence the name, Remember the Woodsmen.     
The East Islander Fashion (aka the Kālua Hula Fashion with added Islay) emerged when my interest in all things tiki turned into obsessed admiration; I suppose that's what lead me to attempt this lūʻau inspired concoction. Using both a spiced Jamaican rum and Kikori as the base, then I added subtle notes of falernum, tropical citrus, honey, and garnished with our house-seared pineapple, mint, and a cherry.
This cocktail's buildup follows the fiery tiki tradition of drawing in a crowd. Once ordered, we take a pineapple wedge pre-soaked in overproof rum, ignite, dust it with cinnamon, then left ablaze while the bartender builds the cocktail. This presentation helps accentuates that smoky-sweet Caribbean experience right when you order the cocktail.
What is your favorite part of being a mixologist?
When bartending becomes something like your first language, it hardly ever feels like work, so I guess that's my favorite part. Plus I've met some of the most exciting characters working behind the bar.
Where do you find inspiration when it comes to cocktail creation?
My bar patrons are my primary source of inspiration, and if that doesn't work, I can always look to The Flavor Bible by Karen Page and Andrew Dornengreg to help me put the pieces together.   
What do you wish customers knew when they came into McFadden's?
I want the general public to know that at McFadden Public Market, we have something to offer people of all different ages and styles! Even at the bars, our non-drinkers or underaged guestws can find themselves having a good time (and yes, even without booze). Our bar team is (naturally) trained to deliver the best desired 'getting out' experience possible, to whoever walks through our doors. We try doing our part in putting the 'service' back in the 'service industry.'
What is your idea of the perfect cocktail?
My idea of a perfect cocktail is whatever you find yourself drinking when you're celebrating something highly cherishable.   
What do you enjoy about working with Kikori Whiskey?
I like how versatile Kikori whiskey can be, and the way it's bright yet soft floral characteristics play on a cocktail menu; it can be subtle or straightforward when needed.  
When you're not at McFadden's, how do you like to spend your time?
Being the Beverage Director at McFadden is a full-time gig for me. There are six establishments within McFadden Public Market, two of which being the bars, Mission Control 80's arcade bar, and the newly renovated Lost Art Bar, formerly known as Under Control (get it, cause Mission Control's upstairs!.. ya, no). However, when I do find spare time, I like to spend it out somewhere in L.A.'s Art District either checking out new bars or art gallery popups.