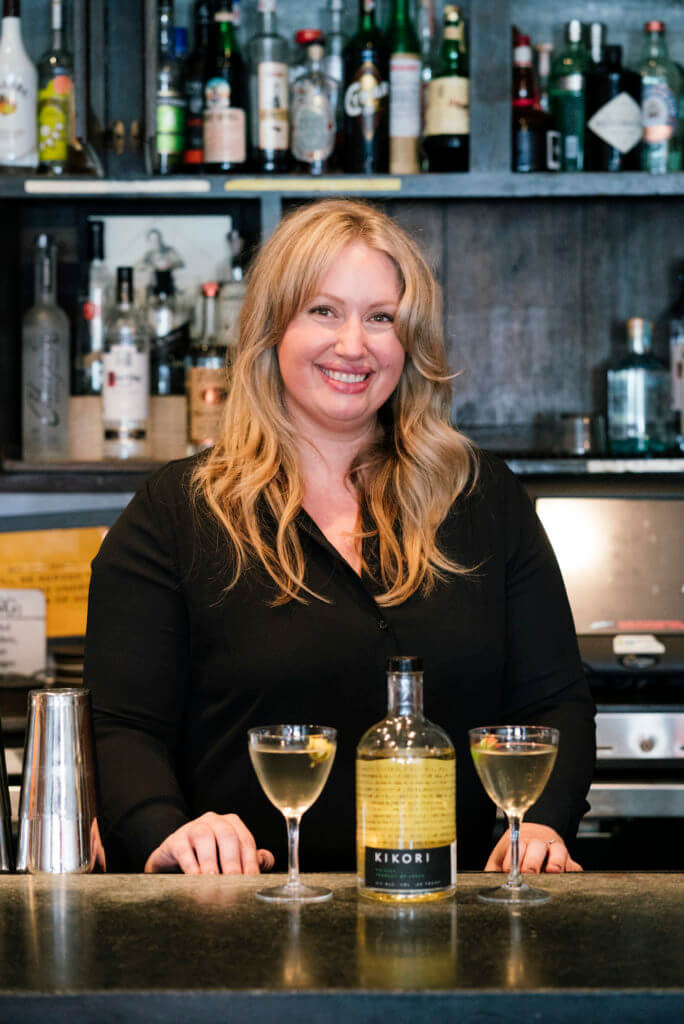 August 2018
What was the inspiration behind this cocktail?
This is actually my second Kikori seasonal cocktail, so this time around I wanted to focus on the soft, fresh and clean aspects of the spirit.  I am in the privileged position of having Sam Rogers as our company Farm Liason. She can find me the best of everything at our incredible Farmers Markets. One day, she brought me these gorgeous bouquets of chamomile flowers and I knew that it would pair perfectly with Kikori. The chamomile flowers are not available very long so I decided to make a syrup with them so that we could enjoy "Make it Kikori Times!" a bit longer in our season. This cocktail is about simplicity, balance, and freshness. I went through several versions, until ultimately finding that "less is more" with my partner in crime, Helen Johannesen, whom I've been creating cocktails with for several years.
What do you enjoy about working with Kikori whiskey?
Kikori is such an unexpected spirit. It has so much subtle, yet complex flavor. There are so many ways to express that, the possibilities are endless. It can blend seamlessly into bolder flavors, or it can stand beautifully on its own with a few simple ingredients to support it.
If you could guest bartend in any other city, where would you go?
Tokyo! I loved how personable the people behind the bar were. Even when there was a bit of a language barrier, you could still feel them taking such wonderful care of you. They take such incredible pride in what they do, the ingredients they use, and the ceremony of it all.
The bar industry takes up many days and nights. How do you find your balance between personal life and work life?  
Oh man, I still feel like I am working on learning how to do that! I think, when you are in the hospitality business, and it is something that comes naturally to you, it can sometimes be hard to "turn it off". I've been with the Gun for over seven years, they are totally my second family. I spend the majority of my day not only caring for my guests, but my staff as well. It's important to my personal constitution that I let those around me feel seen and heard, but it requires a lot of energy and focus. I have to really make an effort to carve out time for myself. I feel incredibly lucky that my husband is not only tolerant, but totally supportive of my sometimes crazy schedule. After a long week, I will sometimes get home and he will run a bath for me and let me have quiet time. Recharging is so necessary, even if it's only fifteen minutes during your day. A little quiet time goes a long way! Most recently, my boss, Jon asked me when I was going to take a vacation, ha! Sometimes I need a little reminding to focus on myself, and even though everyone in our company works really hard, they are quick to remind you that it's important to plan something to look forward to.
What are you listening to right now?
I have a forever soft spot for 90's hip hop and R&B, but lately I am listening to a lot of Nu-Jazz and Instrumental Bebop. When I am driving to or from work, it's a great opportunity for me to chill and get lost in the beats. When I'm not super caught up in the hooks and lyrics, it really allows my head to get into another space. Not exactly meditation, but it helps me to slow down. During the day I love listening to St Germain or Poolside with my sunroof open jetting around LA, it's such a perfect backdrop to the chill groove.
What are you most excited about in the next few months?
I will be traveling to Mexico for work soon, so even though I will be working, I will be sure to have some fun too! Fall is right around the corner, and I will be happy when it cools off a bit so I can start working on my backyard. It's been a long process, but I will be happy to to making progress on it again. I love the LA weather and I love spending time outside. I enjoy getting my hands dirty, it helps keep me grounded and ignites my senses.