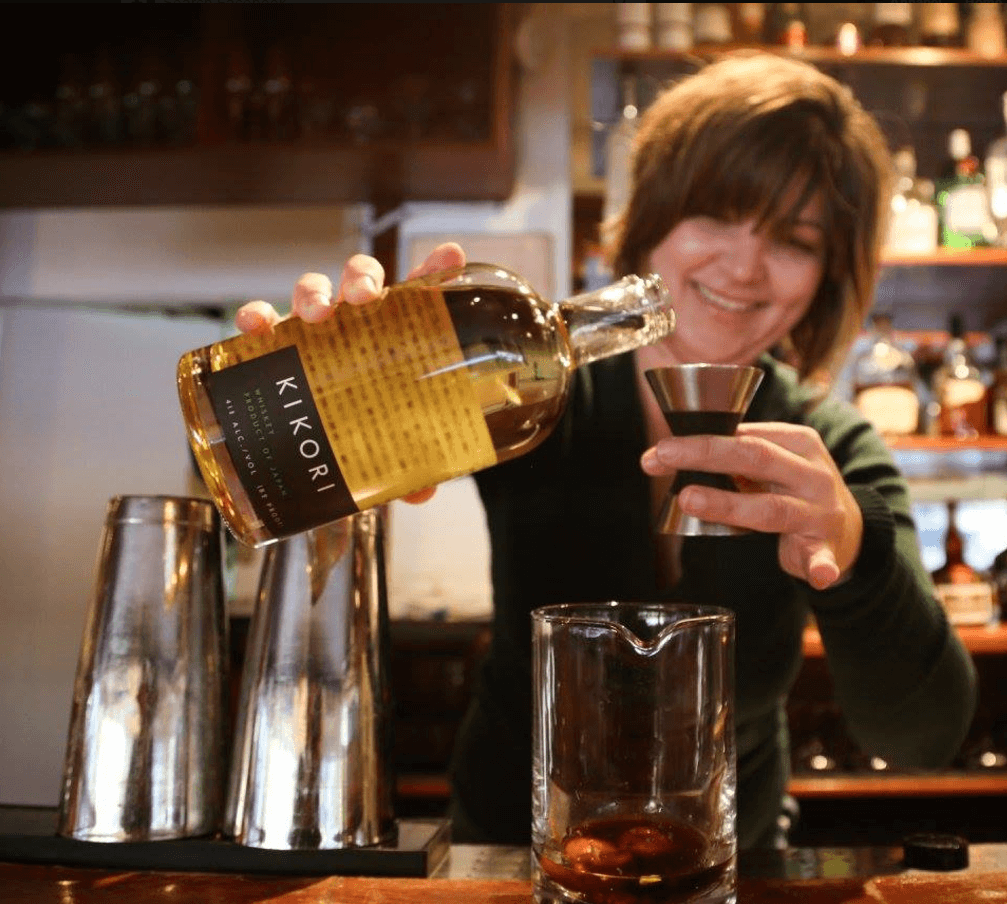 February 2017
We asked MEREDITH HAYMAN of Michael's Santa Monica about her thoughts on the industry and how she spends her downtime. Here's what she had to say:
– – –
Q: You are very well regarded in the industry. What does hospitality mean to you?
When you come into my bar I want you to feel relaxed and welcomed. I do not want you to have to ask me for anything… unless its a question about the menu or a spirit I carry, of course. You should never have to ask for silverware or a refill on water. When you glass is getting empty I am there to offer another. Working in hospitality means you are knowledgeable about everything you offer and are comfortable sharing that with guests. You are there to provide the best possible experience for this guest, reach for help when you need it. You cannot do everything, you need a team. Remember the little things, clearing tables quickly, taking away empty glasses, wiping surfaces down, greeting people with a smile- sometimes its the little things that can make the big difference.
Q: In the busy whirlwind of work life and personal life, how do you find your balance?
It is very hard to separate the two often. I try to leave work at work. If I need to R&D a cocktail, do it at work. Work on a syrup, do it at work. I set aside a little time at home to do a little research but that's it. Home is for relaxing and recharging. It can be difficult because often a great idea will pop in my head while I am watching tv or taking a shower- I plug the idea into my phone and look at it later…..at work. Having a great support system at both work and home helps out a lot. Knowing I have two families of support helps to keep me going. And a lot of Coca-cola- I love it.
Q: Describe your perfect day off…
Sleep in late, walk to the beach for some lunch and a little day drinking, maybe a little yoga. Grab a message or a pedicure and end the day with some reading or writing and a little binge of trashy tv- I know I should not watch it but I cannot help myself, it provides a much needed distraction.
Q: The holidays are coming… what are some of your favorite traditions?
I actually just did an old family tradition over the weekend with my boyfriend. We went and saw a Christmas Carol. As a child, my family and I would go see it every year at the same theater where the same actor played Scrooge. 25 years later, the same actor is there and all the memories flooded back. It was just a great way to get the holiday spirit following. I also love making and decorating Christmas cookies- something all the women in my family do. All from scratch, icing and all- Santa's a picking eater.
And of course watching all the holiday movies- Home Alone is a classic with us and I can tell you the exact spots where my dad will laugh uncontrollably every time.
Q: When entertaining at home, what are some tips you live by?
Always have a clean bathroom.
Offer pre-batched cocktails so you are enjoying not working your own party.
Pot luck is the way to go- you get to enjoy new things and not do all the work…or the clean up.
Q: What ingredients do you like to play with in the fall?
Citrus is widely available and can work with a lot of different spirits. Pomegranates are great and add a wonderful tartness and beautiful color. I love the seeds, they explode in your mouth. Persimmons are great and many people are not familiar with them- right now I working on fermented my own sodas and have a persimmon cooking right now. I might try pumpkins or squash next. Apples and pears with some bubbles are always a hit. Being right next to the Farmer's Market provides a lot of inspiration, as well as my Chef.

Q: What are your thoughts on Japanese whisky?
My first introduction to Japanese whisky was early on in my career. I was working at a hotel and we brought in some Yamazaki because we had a big group of Japanese business men coming through. I tasted it and loved it and was sending my father a bottle. The subtle smokey flavors with in balance with mash and just so easy to enjoy. I love it when someone takes something old and puts their spin on it. Japanese whisky is not duplicating what the Scottish do but holding on to tradition and adding a spin on it like making it from rice instead of barley or aging in plum barrels. Kikori provides a clean palate to work with but still beholds that complexity that is essential to all whiskey making. I cannot wait to see where it goes next.