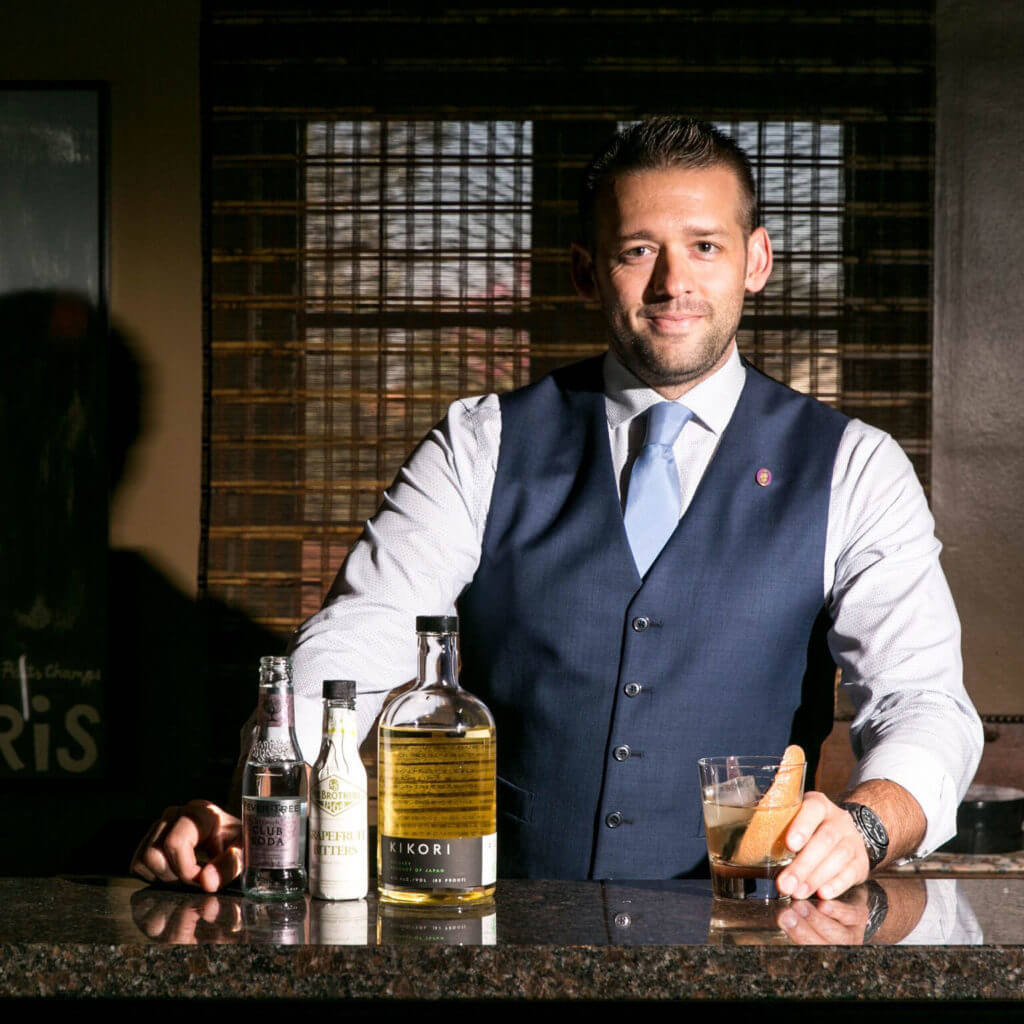 October 2017
What was the inspiration behind this cocktail?
I love the elegance of Kikori, it's more delicate and refined so I didn't want to do anything that overpowered it. I wanted to let the Whiskey speak for itself and keep the flavor intact. I instinctively knew that it would go great with grapefruit, so we decided to do a twist on an Old Fashioned with grapefruit bitters. We do our Old Fashioned the old school way with a sugar cube, and I really feel like the grapefruit accentuates the delicate flavors of Kikori and brings together a really nice cocktail.
What is your favorite element?
The interplay of the grapefruit with the citrus and the softness of Kikori. It's a delicate flavor already so I think it compliments the Whiskey well, without overpowering it.
How do you think of new ideas for cocktails?
We kind of spit different ideas back and forth. We only have four cocktails on our menu at a time and because of that, we always try to incorporate different spirits so that everyone can find something they like. Amy and I are traditionalists; we both love Manhattans, Gin and Tonic's and gin martinis. We like to start with a traditional base and then find a subtle way to introduce new flavors. We're not the most adventurous people. For me, simpler is better when it comes to a cocktail; I like to only use 2-4 ingredients at a time.
What do you think is unique about Kikori?
I've been drinking Whiskey for a lot of years and consider myself a Whiskey connoisseur and it's unlike any Whiskey I've ever had. What I love about Kikori is that it is a completely different take on Whiskey; it's elegant and refined. It's very nuanced and easy to drink. I think for people who don't love traditional Bourbon or Whiskey, Kikori is an excellent fit because it doesn't have an intimidating flavor profile.
What is your favorite thing to do when you're not at The Hobbit?
To be honest, it's kind of hard to find balance right now. My wife and I have two daughters under the age of three. But I love to read when I get a chance; I have two Masters degrees, one in Philosophy and one in Theology. I also love to workout and cook. Whenever I have a day off I usually spend it shopping, cooking and hanging out at home with my wife and two kids.