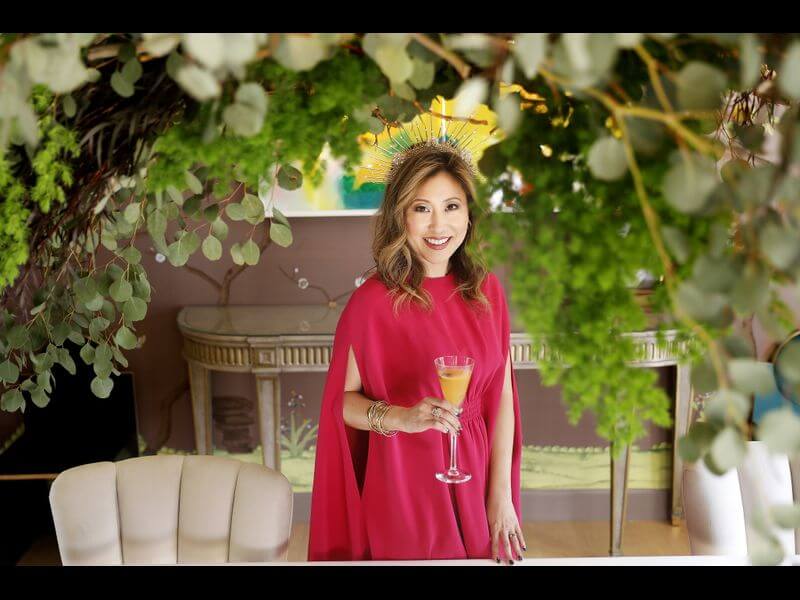 December 2018
"I don't know how to do minimal when I entertain," Ann Soh Woods confesses, her sparkle-adorned eyes widening with excitement. "For me, more is more." It's not surprising that the founder of a spirits company embraces every opportunity to host in the welcoming, art-filled Westside home she shares with her husband, Mel, and two sons.
"New Year's is the ultimate party about excess," she adds while donning a knee-length fuchsia dress and a golden bejeweled spiked crown. And yet given Soh Woods' love of art and design, each detail is carefully chosen with her discerning eye and sensibility.
Above all, however, she prioritizes "the comfort of the guests."
She's thrown enough parties of all kinds, from kids' birthday bashes to smaller adult gatherings that she's efficiently honed her approach — and makes sure that she gets to have fun too.
Here's what she's planning for this New Year's Eve:
"The first thing guests want to do when they walk in is get a drink, and second, pop something in their mouth," Soh Woods observes. So to keep things running smoothly, she's a proponent of prepping as much as possible in advance, with small touches that go a long way.