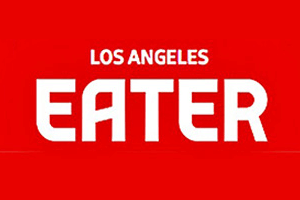 November 2018
Here at Eater LA, we believe in giving great gifts, especially ones that are produced locally in the city or have strong ties to the City of Angels. This year, that means anything from a chic new apron style from local manufacturers Hedley & Bennett on down to a wonderful tea set from Tea Habitat in Alhambra. Giving a gift shouldn't be a stressful endeavor, so take a look at the highly curated set of ideas below. For the coffee maven, there's nothing better than getting a trio of the new Manufactory roaster from Downtown LA.
Espresso enthusiasts might enjoy sipping on their morning double with some handthrown ceramics available for purchase in Chinatown's Now Serving bookstore. And ambitious cooks can wrangle up a crowd with the pasta set from Semolina Artisanal Pasta, which comes with three different shapes and even a can of tomatoes and a box of great sea salt to build a nice sauce. Here now, the 2018 Eater LA holiday gift guide for food lovers. For a bigger set of gift ideas, check out the complete Eater gift guide for 2018.
Kikori Whiskey
LA-based company Kikori started in founder Ann Soh Wood's basement, with most of the brand's distribution network in the Los Angeles area. The Japanese rice whiskey is lighter and less aggressive than other grain-based whiskies, with a smoother finish thanks to more barrel aging. This is the fourth edition of the whiskey, which has a noticeably darker tint than the more yellow bottles of years past. Kikori is an excellent base for a Japanese-style highball, light, refreshing, and fantastic to pair with food. Think of it as sake or soju but with a mature edge.